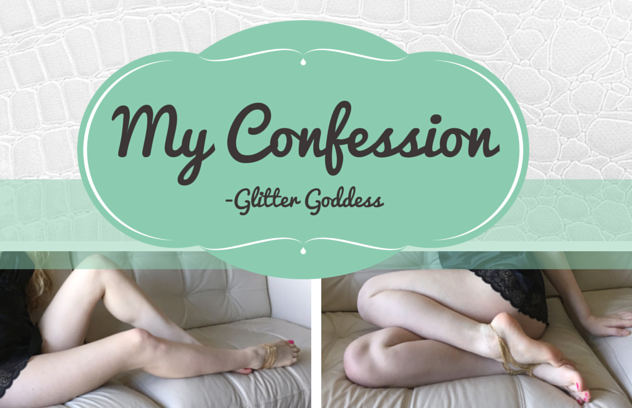 Since it's past April Fools I might as well warn you that this was my prank for all of you good boys. I thought I'd leave it up 'cause why would I deny you such a hot video just because April 1st is over?!*
You guys all know how open and accepting I am of all sorts of different fetishes, kinks, and sexual predilections. In the last month or so I have been exploring something new myself. Though it is hard to talk about, I do want to share it with you partly because I want to keep you in the loop about what's going on and party because I need to get it off my chest. I have always been open with you, my good boys and I always will.
I have recently (the past month or so) explored being a switch. I have a new lover that has inspired this new wave of tenderness, lust, and yes, even submission. Now I know a bit more about the pleasure you derive from your service to me. I know this is kind of a big deal and it is very different, so I made a video to explain and hopefully make this easier for you and me. Please be kind and know I am just a person too, with feelings and sometimes desires that change.
Here is the video…

*Here is an amazing story of another April Fools joke got a good boy hooked on me…
"Hello Glitter Goddess,
I don't know if you actually get these emails or if you get so inundated with them that you do not have any time to read them which I would 100% understand.  Part of me actually hopes you don't read this and its just an avenue for me to express what has been going on with me.  I feel I need to tell someone, while at the same time, I can't tell anyone.
On
April 1st
of this year, one of my buddies wanted to play an April Fools prank.  It was something stupid about how our new boss was starting the following week and had prepared a video for us all to watch to get to know her.  Ultimately it was a link to a Gateway Video that you did.  While the video was inappropriate to our new boss, everyone got a huge laugh out of it at the company.  Making jokes about how we all were going to have a whip cracking dominatrix as our new boss and everyone better get into line.
The problem for me was that while I was laughing along, I was actually more transfixed by the video than anything else.  I felt like you were making a connection directly through the video to me.  I know that probably sounds strange but it didn't in that moment.  I sat there with my colleagues and everyone was laughing along and they didn't realize that this beautiful woman was actually sending me a message.  Directly affecting me through a computer screen in a room full of jocks.
Needless to say, I went home and watched it which like a true 'Gateway' led me to search for your other free videos.  I was almost insatiable in finding out about who you were and connecting with you.  It was such a profound moment for me.  Who is this woman?  How did she get into this world?  What is this world?
Your world is not something I have ever entertained the thought of and really do not understand.  My coworkers were all saying things about how hot you were but then added in how does anyone get into that stuff.  That wasn't what I was thinking.  I didn't care in that moment how guys get into that world.  I just thought that you were so beautiful and so welcoming and almost nurturing I just needed to know more about you.
Over the next few weeks I keep going back and forth between this is all crazy and I need to read more, see more, watch more, learn more about her.
I keep saying, oh just enjoy looking at her website and free videos.  That is more than enough.  However, I feel the need to know more about you keeps growing and my intrigue keeps growing and that leads me to where I am today.
I think you are amazing, wonderful, exceptional, intriguing, captivating, fascinating and exquisite.  You have this beautiful, angelic face with these huge incredible blue eyes.  You look like a beauty queen from the 1920s with an elegance that most women do not have anymore nor could they pull off if they tried.  And then you have this dangerously sexy sensual body with all the right curves in all the right places.  What I love most is the fact that you know how to use it so well with you moving with the grace, confidence, and ease of a highly skilled dancer or ballerina.  Watching how fluid you move your body puts me into a trance all upon itself and even makes me want to take up yoga. :)
As if all that wasn't enough, you have this voice that sounds like warm honey.  Listening to you talk actually makes me feel as if I am being wrapped up in a warm soft blanket where no one can hurt me and I am completely safe, and protected, and free.  I love how sensual it is and that I could be captivated if you were reading me War & Peace.
I do not fully know the reason why I am writing to you and honestly am not expecting a response.  I just felt I needed to tell someone how affected I was by you.  You have become a muse for me in so many areas of my life and I even find myself writing poems about you, poems for you.  I find myself walking around my office or outside in the park and you just slip into my thoughts. Or I wonder what it would be like if you were with me in that moment.
I do not know if I could ever enter into the world you play in.  It is not something a guy like myself ever thinks about.  I did want to tell you how incredible you are though and I wanted to make sure you knew just how strong of an effect you can have on someone.
My coworker was trying to make an inappropriate joke about our new boss and yet has no idea of just how much of a prank he played on me.  His intention was to cause a few laughs and thankfully he has no idea his little joke has caused me to become so transfixed by a beautiful young woman.
I have written this email a few times and deleted it and walked away.  Obviously if you are reading this, then I have overcome that hurdle.
I truly hope you are happy every single day of your life and get everything you deserve.
Thank you"