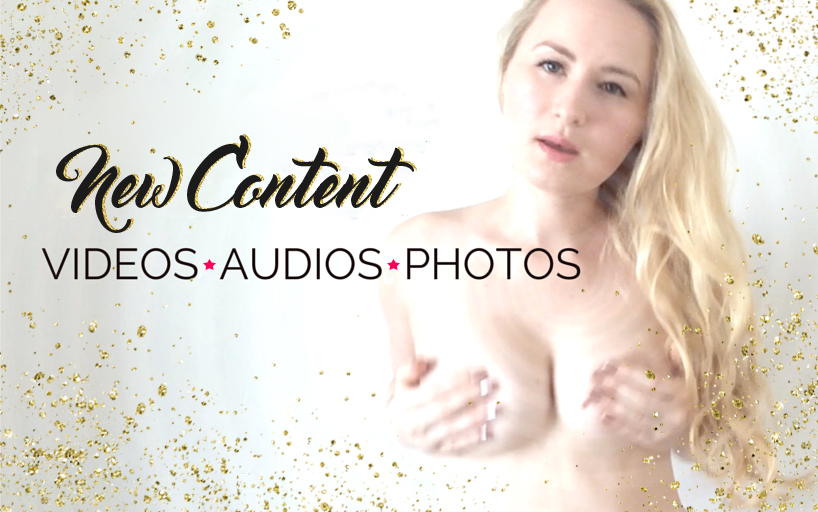 Here is the newest sexy content I have available!
I have lots of hypnosis, body worship, role plays, and JOIs and more coming out that I know are going to melt you. Check back to see my new videos, audios, and photos. First and foremost…. have fun with this content and know that the more you indulge the better it feels! Click here if you need help choosing what to get.
My Niteflirt store (always the most up to date): www.glittergoddess.me
I also have clips on Clips4Sale, Kinkbomb, and iwantclips
NEW Content:
"Introduction to Erotic Hypnosis", Video, $5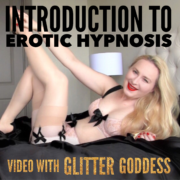 Are you ready to be teased and seduced into a pleasure you could only dream of? I am your Goddess, whether you realize it yet or not, and as a beautiful, powerful woman, I have plans for you! Loose yourself in our secret world… and what you will find… only we will ever know.
*This is an Introduction to Erotic Hypnosis that every good boy should have!
"Hands-Free Orgasm", HFO Video, $20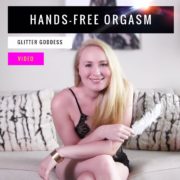 Have you ever fantasized about having a hands-free orgasm? This video is a tantalizing training and fantasy with Me, your Goddess, about building towards the most exquisite orgasm yet. While not everyone can have a hands-free orgasm, this video will help you find out if you can! It also allows for you to cheat a little bit to help the pleasure along so that each time you watch and play with Me, you can get closer and closer to hands-free pleasure. This is the perfect video to play with if you are looking to add fun and more intensity of pleasure to all of your orgasms. This video also includes gorgeous body worship footage while I'm wearing special lingerie… AND a fantasy where I direct a female submissive of mine to please you!
"Touch Your Cock", Worship Video, $20
You won't be able to keep your head with this video. Your mind: Gone. Pleasure has arrived. Come worship at the altar of your Divine Goddess. Come show Me what a good boy you are. Come, give yourself to me. Come exactly when I say!
"Breast Worship",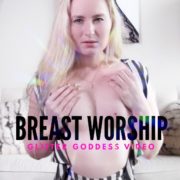 Hypnosis Video, $35

My luscious breasts need no introduction! I will say that in this video you have the privilege of seeing my bare breasts and worshiping them fully! This is a wonderfully seductive hypnosis video that might just be your new favorite!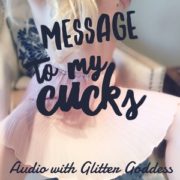 "Message To My Cucks", Audio with Glitter Goddess, $15

This audio is a rare privilege! I recorded it as an incredible tease for all of my cucks right after I had incredible, mind-blowing sex with my favorite lover. Would you like to hear it naughty boy? Of course you would!
*All My cuckolds MUST listen to this audio!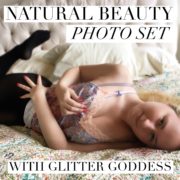 "Natural Beauty Photo Set", 18 Sexy Photos, $15



18 sweet and seductive photos of your gorgeous Goddess. No makeup and beautiful as ever. These are perfect to add to your worshiping… Especially if you'd like to have a peek of me turned on and having fun!
"Your Morning Routine", Daily Tasks + Video, $20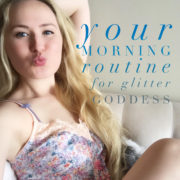 To start your day with your Goddess is something very special. I formulated this routine for my best good boys and I can't wait for you to try it out! It includes instructions and a video which you can watch to do the routine along with me.
"Sex Therapy Begins", Video, $20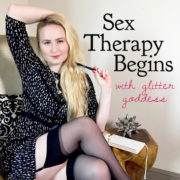 You come to me for treatment*. Sex is on your mind. Let's get started. I'm in your head. How do I know so much about your desires? I know what you want and the next step is yours…. will you let me take you further?
*For Entertainment Purposes Only
(Not a JOI or erotic hypnosis video, more of a roleplay tease).
"Brainwashed Once & For All", Hypnosis Audio, $15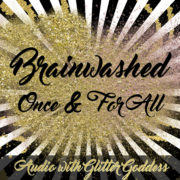 A hunger for intense brainwashing can lead to an extreme intensity and extreme pleasure! Are you ready for more? Are you ready to have your mind erased by a beautiful Goddess? It will be replaced by My will and finally, you will be brainwashed once and for all!

"Triple Hypnosis", Hypnosis Loop Video, $20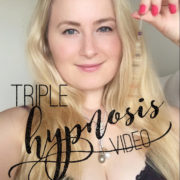 One, two, three times the pleasure in this very naughty hypnosis video! I use my pendant and triple imagery of Me to lull you deeper than ever… and once I have you… what will I do with you? You'll have to find out my good boy…
This is a loop, trance-inducing video with intoxicating audio to take you even deeper.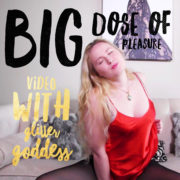 "BIG Dose of Pleasure", Glitter Goddess Video, $20

You think of me… and the cravings begin. That's when you know you need an incredible dose of my pleasure.
It is time my good boy. Time to play. Time to relax. Time to let go and see just how intense this next dose of pleasure will be…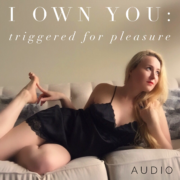 "I Own You: Triggered For Pleasure", Audio, $10

What pleasure awaits when I own you? This audio will show you! You are triggered for pleasure, but you'll just have to find out how sweet, how seductive I can be when I trigger you for even more pleasure. Find some privacy and a pair of headphones and I am about to take you on the best JOI journey yet!
"Deep Hypnosis Video", with Glitter Goddess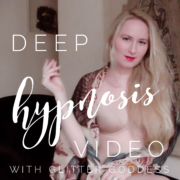 , $20

Deep hypnosis is required for you, my good boy. You crave it, need it, you wouldn't want to live without it. This new video is a seductive tease you need for your library. A go-to for pleasure when you could use a dose of me… Like right now…
"Goddess Knows Your Basic Instincts", Video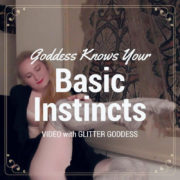 , $20

You have basic instincts and urges as a sexual being that you cannot deny. Let me make these instincts clear you. Let me show you my plan. I am a beauty and yes, you will fall victim to my enchanting teases. Are you ready to experience your sexual destiny?
"JOI For Relaxation",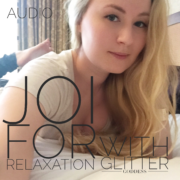 Audio with Glitter Goddess, $10

When things are hard (like recently with so much intensity in the news about politics) I think you need some pleasure, a little escape. Let me guide you in a relaxing JOI. I know you need some release from all that tension. This is the perfect quickie audio for anytime you are stressed. All you need is 10 minutes and your Goddess will lull you into well-deserved pleasure.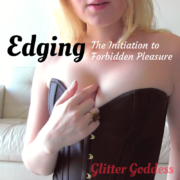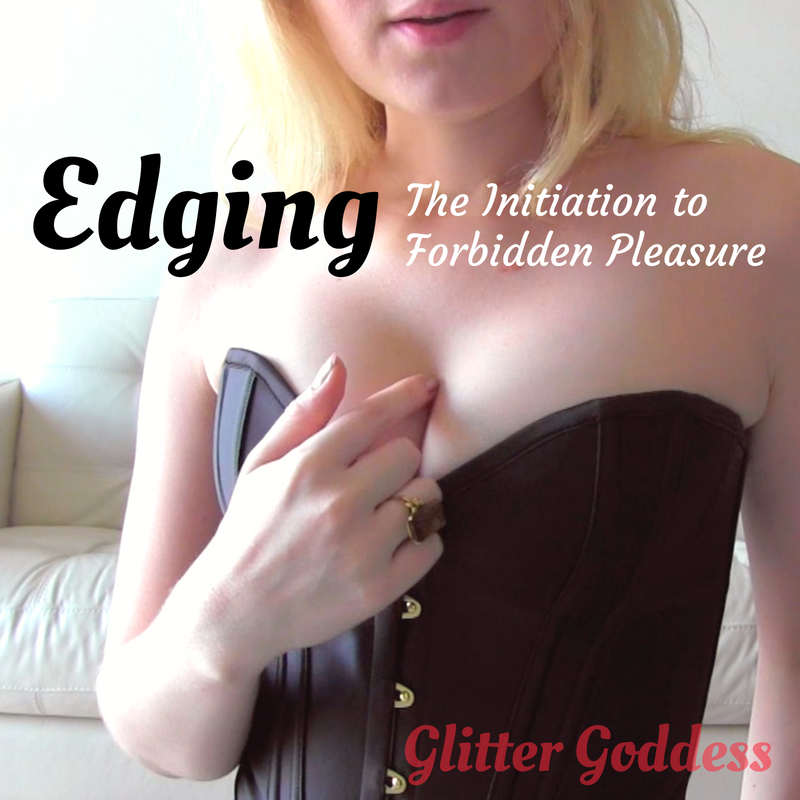 "Edging: The Initiation To Forbidden Pleasure", Video, $20

I know you love to edge for me and now is the perfect time to escape into the pleasures of being totally controlled by me in the most sensual of ways. No words could prepare you for this video's pleasure.
Hint: If you are looking for a first video to buy this is a great one! It's also perfect if you have lots of my videos too!
"Giving In Deeper and Deeper", Loop Video, $20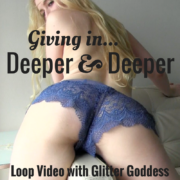 What have you been looking for that you haven't been able to find? What do you desire so deeply that if you finally had it would make your life complete?
Surrender to me, give in deeper and deeper, and open yourself up to that pleasure you've been searching for.
"Your Place At My Perfect Feet – Video with Glitter Goddess", Video, $20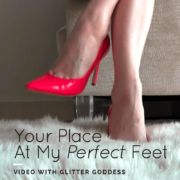 Who knew my feet in a gorgeous pair of heels could be so sensual? You did! And you are about to be entranced even more. My glossy heels dangle back and forth above you and you won't be able to resist the trance that is coming. Back and forth, back and forth in a relentless tease. How long you'll be able to last before my voice and my sexy heels take you over the edge?
"Edging and Sensual Domination", Video, $20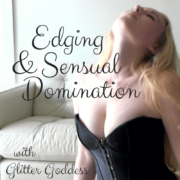 You, my good boy, can't deny the power of my voice. I take hold of your mind, body, and your cock and I don't let go. And you are very lucky my pet because the command that my presence has over you is about to get bigger and bigger!
This dose of your Goddess is too great to resist and this isn't the first time you've fallen under my spell. This isn't the first time you've succumbed to sensual pleasure with me. But unlike any of the other natural beauties who lose their grasp on you, with each new listen to my voice, my grasp, my hold, my power over you only becomes stronger. The pleasure, more palpable, more enveloping, more intoxicating.
Ready for your next dose?
"Booty, Booty, Booty ", 3 Loop Videos, $20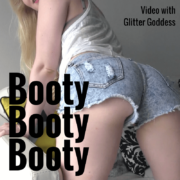 I know you fantasize about my ass and you have NEVER seen my ass like this! THREE videos of pleasure! Each has the same sexy audio you will drool over, but with your choice of 3 sexy as f*ck outfits! Time to let me blow your mind!
*Includes instructions for how to easily loop the video.
"Sex Therapy Session Turns Into Sexy JOI", 3 Loop Videos, $20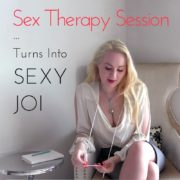 Roleplay & JOI: I know you're not used to seeing me timid, but as a brand new sex therapist* and with you as one of my very first clients, I am going to have to resort to what I know from my personal sex life in order to best guide you. I'm a little shy at first, mostly because I don't know if my methods are allowed, being that I am a new professional. But I let my sexy ideas out when I realize that you won't tell on me. You'll get seduced from this session like you would never even dreamed of and the flirtation will drive you wild!
*All references to "therapy" and "therapist" are for entertainment purposes only. Real sex therapists have nothing on me when it comes to JOI. Here, I'm the professional ;)
"Are You My Good Cuck?", Video For Cuckolds, $25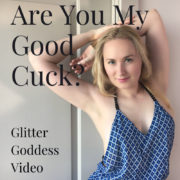 This video is a tease, a reward, a big gift to my cuckold good boys and it really is for cucks only! This video is a seductive tease! It's a window into the sexy fun my man and I have together and where you fit into all of that. I have placed a mirror for you to watch him and Me play and it is the exact angle that will drive you crazy! You'll see my gorgeous reflection and my perfect body while I teach you how to be my good cuck! It is a relentless tease. You will want more and it already is so much more than you deserve! And I WILL have a clean up job for you at the end if you're my very good boy!
"Total Submission: Mind, Body, Spirit", Loop Video, $20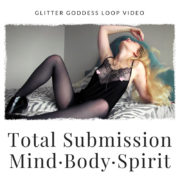 The more you develop the submissive tendencies you feel, the more pleasure you let in, the more fun we can have, the more of a good boy you will become! Are you ready to be trained and reprogrammed to really explore your submissive mind, submissive body, and submissive spirit? It is time for total submission!
"When My Pretty Little Panties Come Off!", Loop Video, $20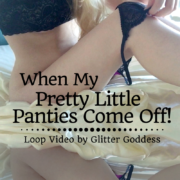 This is the video you always wished your girlfriend would send you while you were gone on a long trip, but you never did have a girlfriend as sexy as me! It will make you fall in love with my body. It will make you crave my taste, my heavenly scent, and make you beg to worship my gorgeous, REAL, powerful womanly body! I'm wearing teeny-tiny thong panties…for some of this video. It's a loop so watch my relentless tease over and over and over. Even for hours, I'll mercilessly have you hard and drooling over me!
*Includes instructions for how to easily loop the video.
Focus: Body worship, ass worship, panties worship, breast worship, foot worship. Worship all of Me!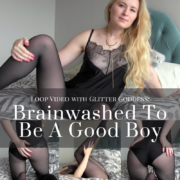 "Brainwashed To Be A Good Boy", Loop Video, $20

Being a good boy for your Goddess is a pleasure beyond description. I know you crave to hear My voice and be under My control. The waves of pleasure only build the more you allow yourself to be a good boy. In this loop video, I give you the training you need to bring out the good boy you long to be, and naturally are for Me. And the way I tease you with my body in this video… WOW!
This is the second video of what I am calling "Loop Videos". They are 3-5 minute tantalizing videos with intensely hypnotic and erotic audio that are designed to be looped over and over. Even for hours if you'd like!
Goody bag includes a .pdf with simple instructions on how to loop the video.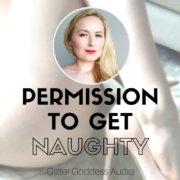 "Permission To Get Naughty", Audio, $5 

Naughty desires are only natural. They come into your mind and stay there for fleeting moments or they persistently tug at you and grab for your attention. Your desires are safe with me. Your fantasies need to be explored and I will seduce them out of you. I will bring you to a place where you can no longer hide what truly turns you on, even if you are not sure what that might be! They are safe with me.
In this audio, I will guide you with your most recent naughty desire. You know the one that has been turning you on so much lately. The one that you are not yet sure about. Maybe it feels too good, maybe you are scared to pursue it, maybe you just need some guidance. I will be your guide. Let me lead you with my whispers. 12 minutes.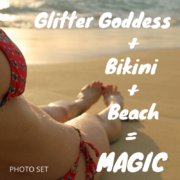 "Glitter Goddess + Bikini + Beach = Magic", Photo Set, $15

This photo set has all things magical: a sexy little bikini, the gorgeous Hawaiian beach, and the one and only Glitter Goddess! These 8 photos will have you reaching for your cock and more in love with your Goddess than ever. Are you ready for the magic and sexiness?
This video focuses on my sexy body with incredibly hot lingerie. I'm wearing a dangerously sexy bra and sheer pantyhose and sheer panties with lace! My long, tangled blonde hair will only help with the brainwashing, re-programing, and increasing your addiction to me.
This is the first of many in what I am calling "Loop Videos". They are 3-5 minute tantalizing videos with intensely hypnotic and erotic audio that are designed to be looped over and over. Even for hours if you'd like!
Goody bag includes a .pdf with simple instructions on how to loop the video.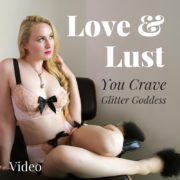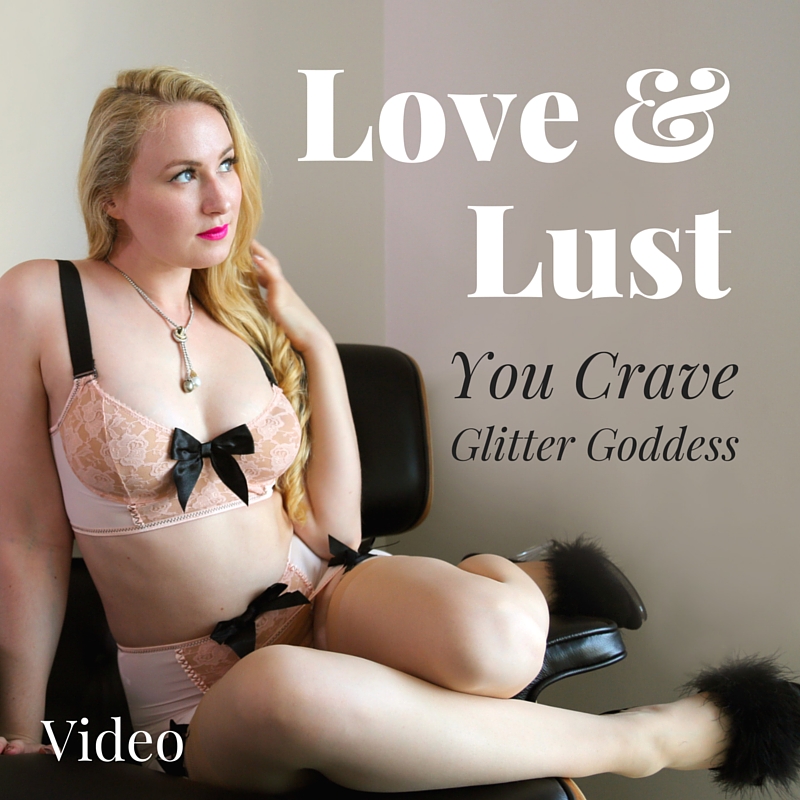 "Love and Lust: You Crave Goddess", Hypnosis Video, $20

This video is a love and lust time machine which will transport you back to your first kiss. I have plans to rewrite that moment to something spectacular and something you'll never forget. And of course, the more lust you feel, the more desire you feel and the more lust you feel the easier it is to turn you into my play thing. Would you like to play with me?
*Role play video with lasting effects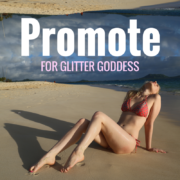 "Be My Promotions Good Boy", How To Guide, $15

You aren't looking for an easy arousing way to please me are you? Oh! You are?! You don't mind being a mindless drone and following my instructions? Oh good! I was hoping you were ready for a task like this. Promoting me is perfect while I am on vacation or if I am home. It's perfect when you are hard and when you miss me and don't forget when you want to please me and make me smile. This guide comes in the form of a pdf and will give you all the instructions you need to excel at being my promotions good boy and to have fun doing it!

"Affirmations For A Good Boy", Audio Loop, $15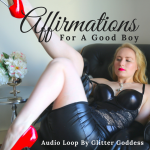 This is the perfect audio to keep you company, keep me with you, and turn you into a very good boy!
If you ever are not feeling good, put this audio on.
If you are ever stressed or upset, put this audio on.
If you ever miss me, put this audio on.
If you long to make me happy, put this audio on.
It always feels good to hear my voice and this audio will make you feel very, very good! You can play it on repeat in the car, at work, at home, or while you sleep. You can play it and look at hypnotic images of me and lose yourself in my words. This audio is for you. I made it just for you!
– This file will loop for one hour if you do not play it on repeat.

"Sudden Pleasure", Hypnosis and New Trigger Video, $20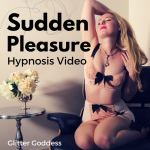 It's time for a new trigger… one to add to and surpass waves of pleasure. Oh you didn't even consider that I would have an even more diabolical trigger planned for you? Good thing I am in charge, because I do. I have a new trigger that will send quakes, waves, AND shocks of pleasure through your body and here is a little secret… it's not just your body this works on. I feel the pleasure too. This video will be your new staple, your new favorite, your new go-to for intense pleasure and training with me, but don't worry my good boy, this video will trigger you forever.

"Daily Phrases/Mantras For When Glitter Goddess is on Vacation", $15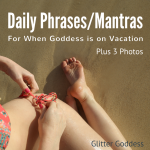 These are brand new daily mantras or phrases to repeat while I am away. I know you miss me and I know anything that reminds you of me brings pleasure and sweet feelings. These phrases will be crucial to your survival while I am away and I also included 3 gorgeous photos of me in my hot bikini on the beach of Hawaii. I'll have fun and be safe on my trip, you repeat these phrases and stroke for me like a good boy.

"Celebrating the Breasts of Glitter Goddess", Photographs, $50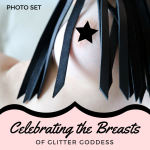 My breasts of course, need no introduction. In fact, I know that if given the chance to see my breasts naked and exposed, that you would jump to take it. What's more, my good boy, is that these are no ordinary 8 photos. How could they be since they are of me? But I mean to say that there is something magical, irresistible, and even secret about these photos that I am going to tell you.
I have developed a fetish, or extra arousal recently for having my breasts worshipped, touched, licked, teased, caressed. I have been playing with my breasts in the most sumptuous of ways. So in getting these photos, which you will do, you will 1. add to my pleasure in that I know you will be stroking your cock for them and 2. get to enjoy real images of me, completely turned on, showing them off AND playing with them. I know, you are a very lucky boy! I can't wait to hear about what you feel when you see these. I know you're going to just lose it!!!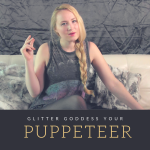 "Glitter Goddess Your Puppeteer", Theraputic AND SEXY Video, $20

This is a VERY different sort of video because it is truly therapeutic for breaking your addiction to other women online, while at the same time it is also a DEEP mind fuck and an even DEEPER hypnotic experience where the sneaky waves of pleasure are amplified. This video will change you. I will be your puppeteer and you will never look back. Are you ready to be born anew? Are you ready to give yourself to me? Are you ready to be free of the distractions that keep you from me? Come my good boy. Now is the time.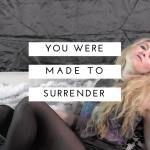 "You Were Made To Surrender", Video, $20

Are you ready for the biggest tease yet? I am feeling very generous in this video, which means you get teases and peeks that you never would ordinarily see. But I know you my good boy. I know you are always desperately in need of training, new videos, and the next glimpse of your Goddess. This video will have you breathless, desperate, and it has a very, very happy ending.
*Hypnotic seduction and tease in my black sheer pantyhose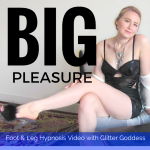 "Big Pleasure Foot and Leg Hypnosis", Erotic Hypnosis Video, $20

You aren't looking for BIG pleasure are you? Oh! you are?!  In this video, I tease and I might just satisfy you taking you deeper and deeper. You watch my body. I tease you closer and closer to that big, BIG pleasure you crave.  Will you be addicted? Yes! Will you mind? Not at all. Will you need more? ALWAYS!  Are you ready to begin? YES you are!!!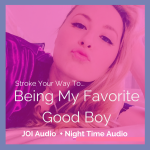 "Stroke Your Way To Being My Favorite Good Boy", JOI Audio PLUS Night Time Audio, $15

These two audios will have you on your way to being my favorite good boy! Dream big and big rewards will come! These audios are for good boys looking to take their service to the next level. Are you ready to be teased? I'll lovingly guide you to desperately need to do whatever it takes to please me, even if your pleasure comes second. I am your temptress after all!
Audio 1: JOI audio to stroke to
Audio 2: Night time audio will keep you serving me even when you sleep.
*Also comes with simple instructions on how to use the night time audio.
Are you ready to be my favorite good boy?! Good!!!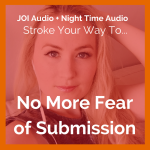 "Stroke Your Way To No More Fear Of Submission", JOI Audio PLUS Night Time Audio, $15

Is it really working to let fear of your submission drag down your pleasure? I know it can be foreign, uncharted, and scary, but I am here to guide you and help you let go of this fear. These two audios will have you on your way to having much more peace with your submissive side which also equates to having way more fun and pleasure!
Audio 1: JOI audio to stroke with
Audio 2: Night time audio will have you releasing fear while you sleep
*Also comes with simple instructions on how to use the night time audio.
What do you say? Are you ready to let me help you dissolve your fear and lead you on this journey into pleasure? Good!!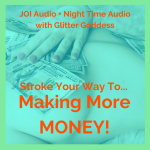 "Stroke Your Way To Making More Money", JOI Audio PLUS Night Time Audio, $15

These two audios will have you on your way to making more money in no time! More for me and more for you means more pleasure and fun together! This is a perfect goody if you lament not having as much money as you'd like and especially it is stopping our fun together!
Audio 1: JOI audio to stroke with
Audio 2: Night time audio will have you making progress while you sleep
*Also comes with simple instructions on how to use the night time audio.
Are you ready to have more money?! Good!!!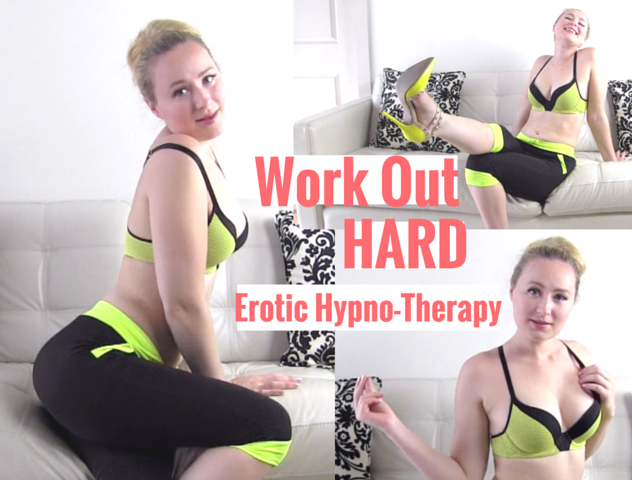 "Work Out Hard", Erotic Hypno-Therapy Video, $20

You're crazy if you don't have a fetish for me in hot work out clothes (with heels no less!). Why not use some of that infatuation to get yourself motivated? Heart rate pumping, heavy breathing, I have big plans for you! So hop on the bandwagon of the Glitter Goddess work out plan. You just might find that working out is WAY sexier than you ever imagined.
* Any reference to therapy is for entertainment purposes only
**This outfit is also my Halloween outfit (since it's a joke that I would ever have to work out!) so I also added a silly Halloween video in this goody which introduces this video. So there are 2 videos in here!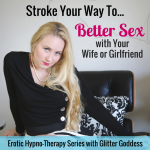 "Stroke Your Way To Better Sex with Your Wife or Girlfriend"
Erotic Hypno-Therapy Video, $20

This is even better than a dream come true! I have found a way to harness the pleasure and power of your desire to stroke for me to help areas of your life you have been wanting to improve. Thusly, my Erotic Hypno-Therapy* Series is born! The control and dominance I have over you will begin to add pleasure to other areas of your life.
In this video we will explore having better sex with your wife or girlfriend. As your therapist, my techniques are rather… nontraditional, but you aren't looking for the same old thing anyway, are you?
It's something you undoubtedly desire and unknowingly, so does she. So do a favor to you both and see how much better your sex will be after I'm done with you. You'll thank me later once your girl starts asking you what you did or who you talked with to be so much better in bed! But, shh! It will be our little secret! Isn't that right my good boy?
*All mention of therapy is for entertainment purposes only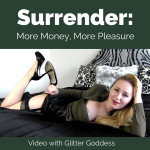 "Surrender: More Money, More Pleasure", $35

I want you to start stroking now. It's ok to be aroused by the command I have over every part of you. I even know your desires sometimes exceed the amount you can spend on our fun. With this video you'll never have that problem again. You know I'm the Queen of brainwashing, so why not let me seduce you into earning way more than you know what to do with? I'll help you with that part too. Just be prepared to have a hard dick the whole time and be prepared to be extra 'inspired' at work.
P.S. There are nipple slips in this video and I do not edit them out. I thought I'd give you a naughty treat for being my good boy!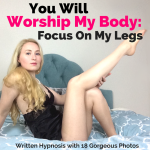 "You Will Worship My Body: Focus On My Legs (Written Hypnosis)", $20

A deep trance and my soft words swimming in your mind are exactly what you need. Let me guide your pleasure, your addiction, your worship of my body. This time I want you focused on my legs. My words will guide you, my pictures will addict you. It is a sinfully good combination and it is only the beginning of the pleasure I have planned for us. So take my words, find somewhere private to be with them, and you WILL worship my body!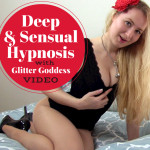 "Deep and Sensual Hypnosis with Glitter Goddess", $20

This a very seductive, sensual, and intimate hypnosis. Do you think it is an accident that I use my sheer nude pantyhose, my golden hair, my shiny black heels, and my sweet and powerful ass to hypnotize you? Hehe… It is time for you to relax into the deepest hypnosis yet and you have no idea what plans I have in store for you. It's better to just trust me that I have so much pleasure for both of us building stronger and stronger, bigger and bigger. But first, you'll need to go deep. First, you will need to melt with my voice and my beauty. Time to please me…NOW
* This is a must have video for all good boys and especially if you are memorized by my shiny black heels and /or my perfect ass.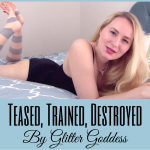 "Teased, Trained, Destroyed by Glitter Goddess", $20

My good boy needs to be brainwashed to the next level. You crave to be trained, teased, and destroyed by me if it makes me happy… and it does! I have toe-less thigh socks and tight black lingerie on in this video. Would you like to see? …And my feet, breasts, and ass are looking even more sexy than usual! I know just how to tease you into oblivion, submission, and pleasure, just follow my lead. Ready?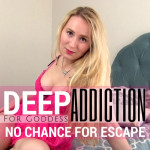 "Deep Addiction For Goddess: No Chance For Escape", $20

NO chance for resistance and NO chance for escape! When I'm done with you, your addiction will be secured! I use any sexy means necessary to hook you, trap you, and have you begging for more. I'll use my perfect ass, my fabulous breasts, brainwashing, and JOI to tease you into a hyper state of arousal. You'll love me and you'll beg for more orgasms this mind-blowing!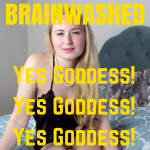 "Brainwashed – Yes Goddess, with Glitter Goddess", $20

Get ready for this video to revolutionize the way you serve me. It's BRAINWASHING and MIND FUCKING so powerful that your whole world turns upside down. Your new way of thinking is hotter, better, and of course makes you a better submissive for me. My plans for you? Ultimate control over your mind, body, and of course your cock! Watch my feather and my sexy body and stroke, my goody boy. Before you know it you will have a whole new mind and "Yes Goddess" will become your way of life!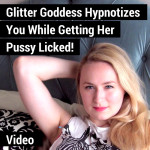 "Glitter Goddess Hypnotizes You While Getting Her Pussy Licked", $20

This is brand new for me to actually create a video like this, but I have had this fantasy for a long time! Though you can't see him I have a lover down between my legs, licking my sweet pussy through the entire hypnosis video. Not only is this a powerful hypnosis session to stroke your cock to, but you NEED to see my facial expressions while I am receiving amazing pleasure. I know you're curious!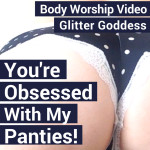 "You're Obsessed With My Panties!", Body Worship Video with Glitter Goddess, $20



This is the new video that ALL of my adorers need to have. It is SO entrancing and intoxicating and it will bring us closer than ever in your worship of me. Ever since I can remember I have been turned on by the thought of having someone worship my panties and masturbate. This video will take you that visual and hypnotic journey and you will watch it over and over. It will be more powerful with every time you watch it. So if you get only one video get this one!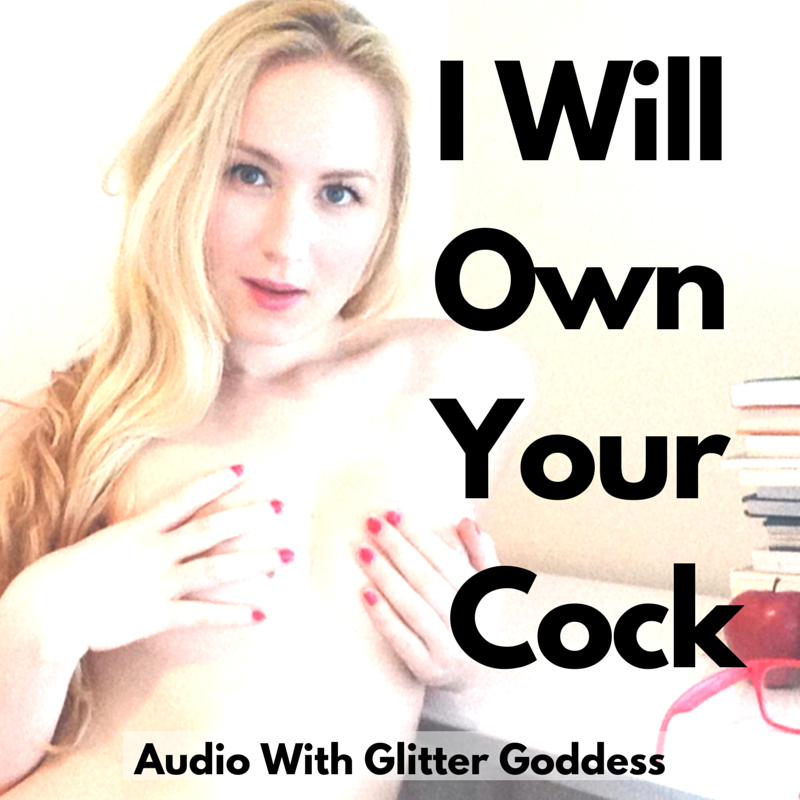 "I Will Own Your Cock", Hypnosis Audio with Glitter Goddess, $15

There is nothing that I love more than seducing you and hypnotizing you into complete submission. In this audio, I warn you of my dominating intentions and yet you will still be unable to resist. I WILL own your cock! The good news is that once I do own your cock you will see that the pleasure is so intoxicating, so intense that you will always and forever offer your cock to me to control. That is a very good boy! Let's begin…