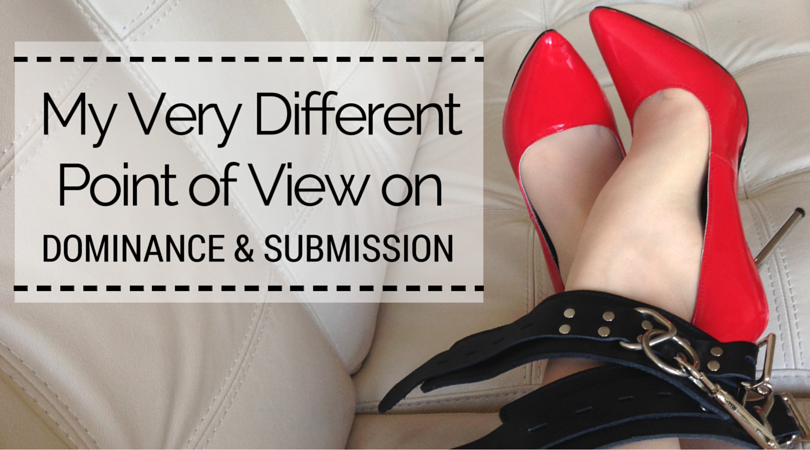 I need to clarify something.
During a private session yesterday, my caller was telling me how even after just talking to me for ten minutes he could tell how enormously different I was from any other Dommes he had spoken to during the 15 years he had dipped his toes into submission. He told me he never felt comfortable moving forward with any Domme. He would call a dungeon for example, and the woman answering the phone would right away tell him to "get on your fucking knees and bow down to My superiority". The funny thing, he told me, was that he was only calling to find out whether they were open on Sundays! That is when I realized how confused this whole subject of dominance and submission is for some people.
I've been going along having my own ideas about dominance and submission that are very different than the norm partially because I was never trained by anyone to be dominant and I never once looked to other mistresses to figure out how to be dominant. When I realized that being a Goddess was a possibility, I looked to my own reality and imaginary world to see what I would like this all to look like. I didn't even look at what other people had attempted either with failure or success.
So good thing I'm cute, because apparently I'm not that bright since I just had this realization yesterday. So now that I see once and for all  that my idea of dominance and submission is so different I would like to give you a possibility for submission other than "get on your fucking knees," when you are only wondering whether I take calls on Sundays. Because really, how many times can you be excited about being called a "bitch" or a "loser" without getting bored and disinterested?
Setting This Straight
True submission is the willingness to be a kindness and have generosity of spirit for his Mistress. It is an adoration, a love, a generosity, a servitude that does not exist in our outward culture, but does exist deep within the hearts of certain people. A Goddess or true Domina is someone who can receive all of that and more.
A true Goddess makes it easy for her submissives to be all that they truly are including their vulnerability, their kinkiness, and their secret ideas that they may not have even revealed to themselves. She does this with manipulation, magnetism, and by being magnanimous. Being magnanimous is generosity beyond generosity and this is the part that most people don't get… and that I probably shouldn't tell you because it is kind of a big secret.
A true Goddess will only take her submissives where they are wanting, willing, able, and capable of going and not a step beyond it. A true submissive is one who makes it easy for him Goddess to take him wherever it is he would like to go. Really look at this. How amazingly generous is it for a Goddess who deserves absolutely everything to be willing to look to each individual supplicant and find a place for him in her world entirely based on where he is wanting, willing, capable, and able to go?
On some level I'm surprised that not every Mistress does this because it truly is insane to try to get somebody to go where they are incapable of going. This is the elegance of being a Goddess that unfortunately is incredibly rare.
Now, I will teach this technique to other mistresses, but very few have asked. It requires vulnerability on both the dominant and submissive side . I ask lots of questions and I am truly willing to hear the responses of my supplicants. A true Goddess must be just as good at listening as delivering orders and tasks.
Whenever somebody disrespects me or lies to me or doesn't do what they say they are going to do I am grateful. Yes, I'm actually grateful because they have just revealed who they truly are. That is information they would never say or even admit to themselves in most cases. I would prefer this is revealed early on so that I see where they are actually functioning from instead of being mislead into the promise of a future they could never deliver.
If you are new to submission did you know that you could still be submissive and be honored as the individual you are? And if you have been in the submissive community for years and years has anyone truly asked you what you would like to get out of a Domme/sub relationship?
I have some questions for you to get clear on your submissive reality, not what you think you are supposed to be as a submissive. Finding what is truly going to satisfy you will give you a more clear place to begin your search for a perfect Goddess for you.
What is your fantasy interaction with a dominant woman?
How would you like to feel before, during, and after serving a Goddess?
What is one thing in your sexual or submissive life that you are currently unsatisfied with?
Referencing the question above, do you have any ideas about how this could be different or what you would like to change?
What is one thing you would never give yourself permission to do or be that you would secretly love to experience?
So play with those questions and my hope is that you get more clarity about what is true for you. The more you are clear on that, the better you can serve and the easier you make it for your Goddess, whether that is me or someone else.
Remember, my definition for a true submissive is one who makes it easy for the Dominant to take them where they would like to go. If perhaps you are confused about whether that is topping from the bottom, remember it is always up to the Mistress whether she has you in her service or not. The earlier and more clearly you can communicate what you have to offer and your intentions, the better. That way no one's time is wasted. In a truly symbiotic Domme/sub relationship you both end up getting what you desire and are honored for who you truly are.
XoXo Goddess