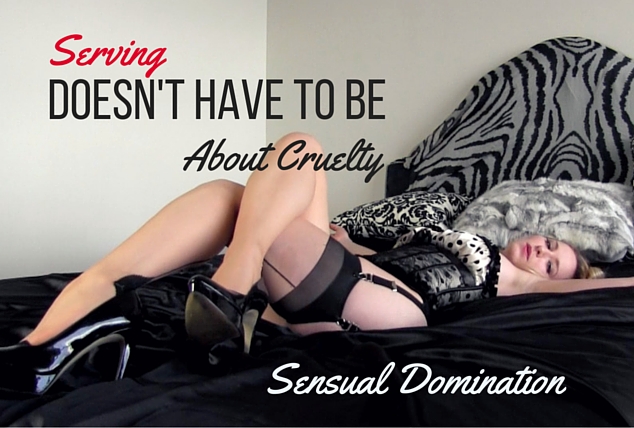 It's pretty easy to find Mistresses online for demeaning and humiliating domination, but what if you have a deep-seated desire to serve a Goddess who is seductive and kind? Turns out you are in luck, as long as you have found me. Since you're reading this article about sensual domination, you my good boy, are very lucky.
I wanted to take a few moments to address the concerns I hear over and over as a pro-domme. It's the desire to serve, adore, and cherish a beautiful powerful Goddess, but without the needless cruelty, humiliation, and pain. I'm not opposed to these forms of service, but they are not ALL that serving a Goddess has to be nor do they have to be involved with service at all.
There are limitless ways of expressing dominance and submission that are kind, sweet, sexy, and fun! A simple and caring foot massage, a gift certificate to a restaurant she enjoys, a note reminding her of her beauty and perfection. And wait for it….. this is pretty controversial in the Domme community… imagine a sweet and sincere thank you from Her.
There is a difference between lowering yourself to make a woman feel truly powerful and being all that you can be to add the most wonderful things to her life that you can muster. I favor the second pretty heavily. One of the ways I like to talk about this is encouraging a constant wondering, a constant desire to add to three things in my life. They are my ease, pleasure, and happiness.
As a Goddess, ease, pleasure, and happiness, are just about the most valuable things on earth, and hey if you can add any or all of those to the beautiful woman in your life, then you are doing well! The I way I see it, I would much prefer for you to focus on how wonderful I am, rather than how low you are.
So if you are looking for a Goddess that will encourage rather than force, receive rather than take, and seduce rather than be cruel, your search is not for naught. You just might be into a little something I like to call "Sensual Domination". I wish that I could say I have a whole list of Goddesses that I recommend, but for now, a least there is me ;)
Here are just a few of my many videos that lean to the more sensual domination side of my dominance and of course, nothing beats a one on one session with me!
Sensual Domination Videos: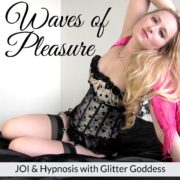 "Waves of Pleasure: JOI & Hypnosis with Glitter Goddess", $20

My power as a femme fatale is undeniable. Like a huge wave, a force of nature, I can't be stopped. I slide through your mind, body, and cock and have you surrendering to bigger and bigger waves of pleasure. A little hypnosis, a little seduction, a little tease. You reach down to your hard cock and even one stroke has you incapacitated, intoxicated, in love. You give up all control. What you gain is pure pleasure with the most beautiful Goddess in the world.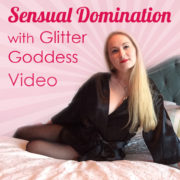 "Sensual Domination with Glitter Goddess", Hypnotic Video, $20

Get ready to be sweetly seduced, nurtured, and utterly swept off your feet by my gentle yet powerful seductions. Come lay your head in my lap and let go of any worries that trouble your mind. I will care for you, guide you, and render you weak and helpless to resist me. Of course, my pantyhose and satin robe make it hard for you think straight. Just take my hand sweetheart. I'm going to lead you to the bedroom and help you let go. I have this new pressure point relaxation I learned that I want to try on you…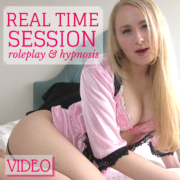 "Real Time Session Role Play and Hypnosis", $20

I know you have wondered what it would be like to come to me for a real time session. This is a role play done as if you really are here with me. You will get to see me showing off my body. You will be massaging my feet. Will I let my dear submissive have any release? We will just have to see how well you please my feet underneath these pantyhose…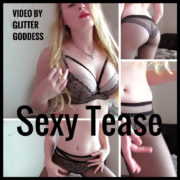 "Sexy Tease", Hypnosis Loop Video, $20

This video focuses on my sexy body and incredibly hot lingerie. I'm wearing a dangerously sexy bra and sheer pantyhose and sheer panties with lace! My long, tangled blonde hair will only help with the brainwashing, re-programing, and increasing your addiction to me.
This is the first of many in what I am calling "Loop Videos". They are 3-5 minute tantalizing videos with intensely hypnotic and erotic audio that are designed to be looped over and over. Even for hours if you'd like!
Goody bag includes a .pdf with simple instructions on how to loop the video.