Strap on training is a very naughty topic here is where my enjoyment of it began…
There I was laying in my bed.  I was playing with myself and I had never cum before.  I had no idea what an orgasm felt like and I didn't know how to make myself cum, but I was feeling pleasure grow. It was already more intensity than I had ever felt and it did seem like it was building up to something. My fingers were wet and furiously sliding up and down on my little clit. All of a sudden my mind went wild and without warning I pictured I had a cock and was fucking my (then) boyfriend from behind. I was shocked and I exploded into my very first orgasm. At the time, I didn't even know about strap-ons… but now I do!
You know how deep my turn on goes when I am playing with strap on training….all the way back to my very first orgasm. Have you wondered about strap-on play? I love talking about it and sharing stories and fantasies. Schedule a time here to talk about the implications, to fantasize, and to talk about how you could have the privilege of a real time strap on session with me.
My Strap On Listing on Niteflirt: 
My Strap On Content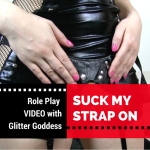 "Suck My Strap On: Role Play Video", $20

This is something that we both know you need. It is time for you have your  real time session with me at my dungeon. Come in and have a kneel on the floor. I have something I want to you see, something I want you to suck on for me. I'll show you how my pet. Just give it a little suck for me while your mind grows weak and your cock gets hard. Time to meet me at my dungeon for a little strap on fun!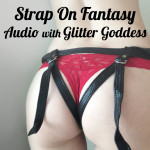 "Strap On Fantasy", Audio, $15

It's sexy story time! Sit back and relax while I tell you all about one of my biggest turn ons. I will tell you stories and guide you through a fantasy that will feel real, so get ready to be fucked by me, gently and sweetly fucked by your beautiful Goddess.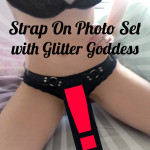 "Strap On Photo Set", Photos $5

These photos capture me looking SO sexy in my powerful strap on and strap on harness. Prepare yourself for the vulnerability and intensity of being penetrated by me. I'd love to tease you with this toy. Come take a look
If you would like to schedule a phone or cam session with me to play further, schedule a session here.