Glitter Goddess, Houston Dominatrix
Looking for a Houston dominatrix?  If you don't already know Me, I'm Glitter Goddess and I am the most seductive and addictive dominatrix in Houston, TX and maybe the world. My favorite kinks in real time are hypnosis, foot worship, sissy girl time, domestic service, and occasionally strap on fucking or CBT. Get to know me and when you are ready you can take the next step to meet me.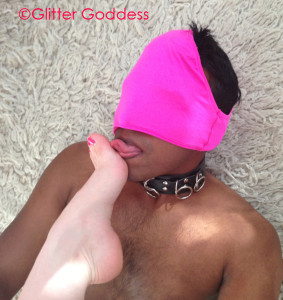 What I Love To Do In Real Time:
Hypnosis and Brainwashing
Foot Worship
Feminization and Sissy Girl Time
Panties Worship
Domestic Servitude
Financal Domination
CBT
and occasionally strap-on, roleplays, & other kinks
How To Serve In Person
If you are hoping for a real time session with me I need you to be patient and realize that I don't let just anyone serve me in person. I have lots of people who desire sessions with me and I use online service to start out getting to know each other. Over the phone and through cam sessions I will find out the unique ways you desire to serve and what we have in common. You will learn more about me and my desires too. It's a beautiful and meaningful way to begin. Much better than showing up without having any sort of connection to each other!
So in summary, online service is something to be earned. It happens for many of my good boys, but not all. The first step is to get some videos, especially my Dos and Don'ts Video which is just $2.99. Then email me to set up a time for our first phone call. GlitterGoddessG@gmail.com
Access Bars
Another in person session I offer, which is not a pro-domme session, is called Access Bars. It is a relaxing process where my subject lays (clothed) on a massage table and hold the head in specific ways that allow the mind and body to relax in ways that most people have not yet experienced. I also sometimes pair this with hypnosis (not erotic-hypnosis mind you).
This process is less of a financial investment at $500/60 minutes while my pro-domme sessions are $1,000/60 minutes.
XoXo Glitter Goddess